DOH-MMCHD WELCOMES DR. BALBOA AS NEW REGIONAL DIRECTOR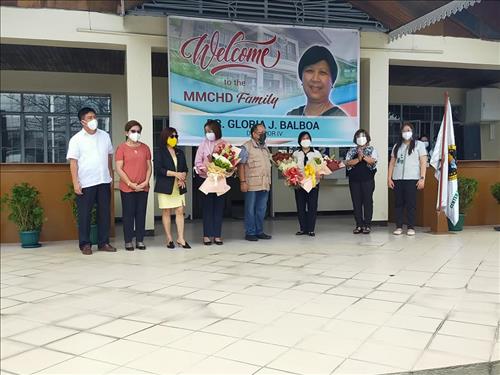 HPMRU News Release No.034
March 15, 2021
The Department of Health – Metro Manila Center for Health Development (DOH-MMCHD) today held the turnover of directorship for the agency in a simple rite that coincided with the regular Monday morning flag raising ceremony at the office compound attended by the Division Chiefs, Cluster/Unit/Section Heads and staff of DOH-MMCHD.
In the activity, outgoing Regional Director, Dr. Corazon I. Flores, welcomed Dr. Gloria J. Balboa, the incoming Regional Director, who was accompanied by DOH Assistant Secretary for Field Implementation and Coordination Team for National Capital Region, Dr. Elmer G. Punzalan; Director Maria Luisa S. Orezca; and several staff of the DOH – Health Emergency Management Bureau. In her message, Dr. Flores said that in her five years in the regional office, she felt the support of the staff and their dedication to public health service since the region is at the center of the country and in the limelight of current health events.
The traditional endorsement of the DOH-MMCHD flag by Dr. Flores to Dr. Balboa immediately followed.
The new Regional Director, Dr. Balboa, related in her message that it is not her style to bring her own staff. "How will you trust me if I will not trust you," she emphasized. Likewise, she uttered that our working relationship will be bounded with trust and respect. She also added that we have to compete with ourselves, continue to aim high in whatever we do, be it big or small we have to give our best. Finally, she said, "We have to support each other and work together harmoniously."
On behalf of the staff of DOH-MMCHD, a bouquet of assorted fresh flowers was given to Regional Director Balboa.
Dr. Maria Paz P. Corrales, Assistant Regional Director, said that sending off Dr. Flores is with a heavy heart; however it is also with big open arms that we welcome Dr. Balboa. "Let us coordinate as we work as one and as we heal as one," Dr. Corrales added.
In his inspiring message, Assistant Secretary Punzalan said that since we are in the midst of the pandemic, we must observe social distancing but loving each other. He said that we have more things to do, to work on and to implement.
Incidentally, District Health Teams 3 and 4 of the Field Operations Cluster under the Local Health Support Division hosted the flag raising ceremony.