DOH-MMCHD BIDS FAREWELL TO DIRECTOR FLORES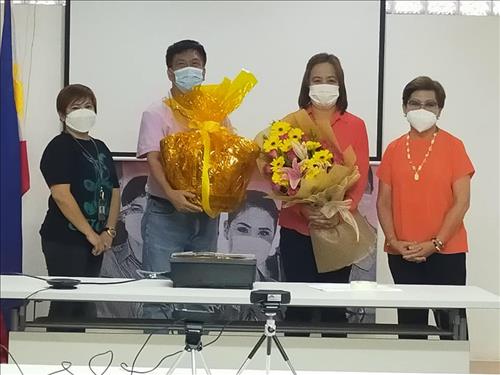 HPMRU News Release No.033
March 12, 2021
The Department of Health-Metro Manila Center for Health Development (DOH-MMCHD) held a send-off program for Dr. Corazon I. Flores with the Assistant Director Dr. Ma. Paz Corrales, Dr. Amelia C. Medina, Chief of Local Health Support Division (LHSD) and Mr. Philip Du, Chief of Management Support Service Division (MSSD), and cluster heads held at the Amphitheatre last March 12, 2021.
As her term draws to an end, Dr. Flores is leaving her legacy to all MMCHD personnel as she gave her farewell. She has been an outstanding and passionate leader as the OIC-Director IV for almost three (3) years and as an Assistant Regional Director for two (2) years.
The division chiefs honored and gave gratitude to Dr. Flores as the recognition for all her efforts and her good leadership throughout the entirety of her stay at the MMCHD. They emotionally said their goodbyes and wish her to have another successful and meaningful journey as she transfers as the OIC-Director IV at Central Luzon CHD.
"In an organization, you do not need to be the best, just always be good and touch lives. Always have a good heart." Dr. Corazon said as she gave her farewell to her MMCHD family.
The program closed with a lot of goodbye and good wishes for her journey and looking forward for a new leadership.