CARDINAL SANTOS MEDICAL CENTER ROLLS-OUT COVID-19 VACCINATION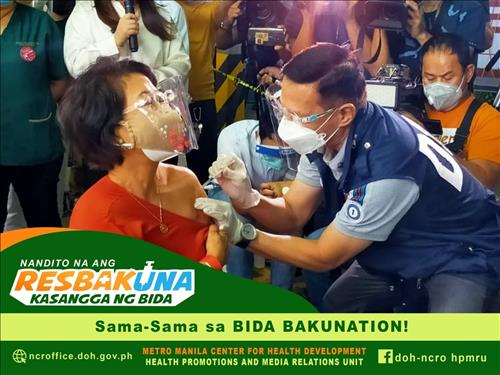 HPMRU News Release No.031
March 6, 2021
Cardinal Santos Medical Center, a private hospital in San Juan City, today started its COVID-19 vaccination of its healthcare workers. Secretary Francisco T. Duque III of the Department of Health (DOH) led the vaccination roll-out program.
The hospital initially rolled out the administration of COVID-19 vaccines manufactured by Sinovac. After the arrival of another vaccine which is AstraZeneca, they proceeded to administer it to the hospital staff. Dr. Zenaida Javier-Uy, the Senior Vice President and Chief Medical Officer of Cardinal Santos Medical Center, was the first in line who received the said vaccine. Health Secretary Duque personally inoculated Dr. Javier-Uy as the signal of the start of the vaccination of hospital staff and frontliners this day since they are the priority group and are in the forefront in the battle against COVID-19.
Dr. Corazon I. Flores, Officer-In-Charge/Director IV of the DOH-Metro Manila Center for Health Development joined the Health Secretary in this another milestone event in the vaccination program of the country.
Incidentally, the AstraZeneca vaccines came from the COVID19 Vaccines Global Access Facility or COVAX that is led by the World Health Organization and other global vaccine alliance that ensures that every country in the world will have an easy and equitable access to the COVID-19 vaccines. Cardinal Santos Medical Center is one of the first private hospitals in the country to receive COVID-19 vaccines from COVAX.