"JUANA LABAN SA PANDEMYA: KAYA!"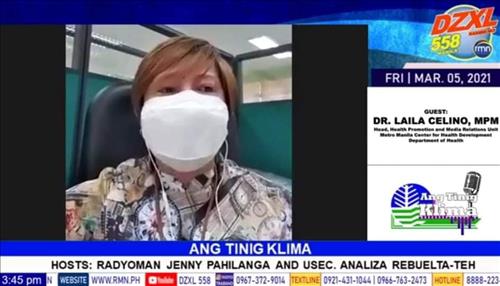 News Release No.028
March 5, 2021
Department of Health - Metro Manila Center for Health Development (DOH-MMCHD) was invited for an interview about Women Empowerment as the world celebrates Women's Month at Ang Tinig Klima (ATK) on DZXL, today.
Dr. Laila Celino, Head of Health Promotion and Media Relations DOH-MMCHD laid out the DOH programs that ensure women's health and wellness.
Also, she added that female representation is vital in providing quality health services amidst COVID-19 based on 2019 Field Health Services Information System data (FHSIS).
According to the FHSIS data, out of 8,544 frontline health workers in Metro Manila, 7,664 of them are women.
On the other hand, DOH-MMCHD supports women and this year's Women's Month theme: "Juana Laban sa Pandemya: Kaya!" in the highlight of women's contribution in battle the COVID-19 pandemic.