SYMBOLIC COVID-19 VACCINATION FOR NAVAL OFFICERS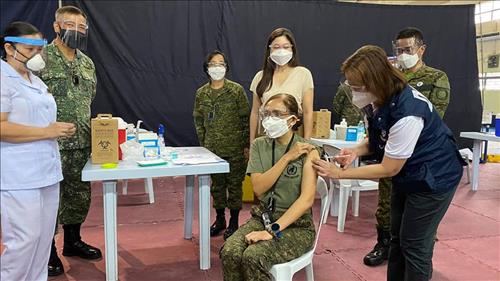 HPMRU News Release No.023
March 2, 2021
The Armed Forces of the Philippines (AFP), thru the Manila Naval Hospital at Fort Bonifacio, Taguig City, today launched its COVID-19 vaccination roll-out among its naval officers and staff. The AFP received 100,000 doses of Sinovac COVID-19 vaccines that were donated and transported to the Philippines by the Government of the People's Republic of China.
Incidentally, the Manila Naval Hospital is the designated COVID-19 vaccination hub of the Philippine Navy.
The symbolic vaccination activity was held at the Jurado Hall of the hospital. Top officials and members of the vaccination teams of the Philippine Navy warmly welcomed the guests and vaccinees.
During the said activity, Dr. Corazon I. Flores, Officer-In-Charge/Director IV of the Department of Health – Metro Manila Center for Health Development had the opportunity to administer the first shot of the vaccine to selected naval officers.
Director Flores, accompanied by Naval Officers visited the facilities of the vaccination hub where the ideal steps in the vaccination process will be strictly observed.
Honorable Maria Laarni Lopez-Cayetano, Representative of the Legislative District of Taguig, paid a visit to the vaccination activity to personally express her full support to the COVID-19 vaccination program of the government.