AMANG RODRIGUEZ MEMORIAL MEDICAL CENTER HOLDS SYMBOLIC COVID-19 VACCINATION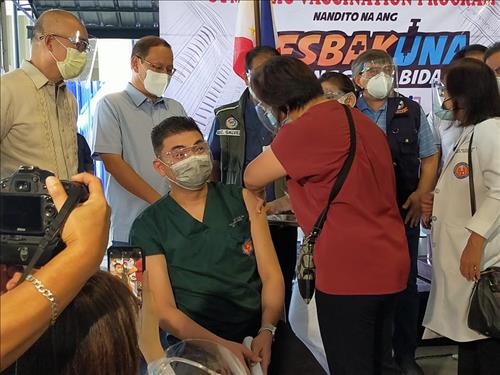 HPMRU News Release No.022
March 2, 2021
Amang Rodriguez Memorial Medical Center (ARMMC), in cooperation with the City Government of Marikina, today held its symbolic COVID-19 vaccination program at the Marikina Sports Complex to signal the start of the actual vaccine roll-out to its healthcare providers.
Honorable Mayor Marcelino Teodoro and officials of Marikina City cordially welcomed the officers of the National Task Force Against COVID-19 led by the Chief Implementer and Secretary Carlito Galvez, Jr., Assistant Secretary Elmer Punzalan of the Department of Health, andUndersecretary Bernardo Florece of the Department of the Interior and Local Government.
Four (4) medical doctors were among the first ones to receive the initial dose of the vaccine during the symbolic activity. These doctors took the initiative to urge the people and fellow health workers to get vaccinated to achieve an extra layer of protection against the virus that causes COVID-19 especially that they are most at risk of acquiring the virus.
Incidentally, the COVID-19 vaccines were donated to the Philippine by the Government of People's Republic of China. These vaccines were manufactured by Sinovac-Biotech , one of the vaccines granted by the government with Emergency Use Authority (EUA)