COVID-19 SYMBOLIC VACCINATION AT THE LAKESHORE HALL, TAGUIG CITY FOR TAGUIG PATEROS DISTRICT HOSPITAL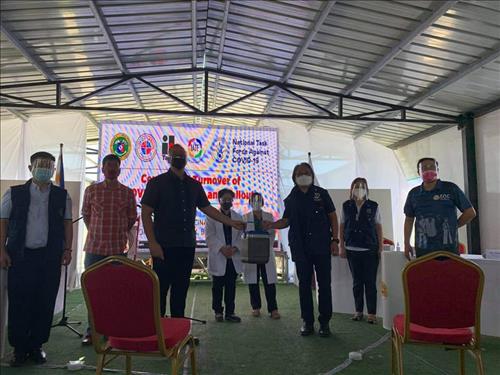 HPMRU News Release No.021
March 2, 2021
The Taguig Pateros District Hospital (TPDH), a dedicated COVID-19 hospital in Taguig City is among the first frontline facility centers to receive the initial batch of the COVID-19 vaccine, CoronaVac (Sinovac Life Science Ltd.). Today, 2 March 2021, a momentous activity was held at the Lakeshore Hall, Taguig City as medical workers of TPDH receive the vaccine.
DOH Undersecretary Leopoldo J. Vega emphasized the importance of vaccination to finally curb the pandemic. "This is a race between infection and inoculation. The only proven fact to stop this pandemic is vaccination", Usec. Vega said.
Taguig City Mayor Hon. Lino S. Cayetano expressed his gratitude to the medical workers of Taguig Pateros District Hospital and City Health Office who are untiringly providing services for COVID-19. Furthermore, he urged the health workers and the public to get vaccinated, as soon as vaccines are available to achieve the goal of zero COVID-19 case in Taguig City.
The symbolic vaccination to the health workers immediately followed after the ceremonial turnover. Dr. Anna Richie Quilatan, the Medical Center Chief of TPDH was the first to receive the vaccine, among other essential hospital medical frontline workers. She was also joined by Dr. Luis Sy Jr., Head of the City Epidemiology and Disease Surveillance Unit and Dr. Jennifer Lou De Guzman, the National Immunization Program Coordinator of Taguig City Health Office.
Meanwhile, Dr. Corazon I. Flores, OIC-Regional Director of the DOH-Metro Manila Center for Health Development, Assistant Secretary Manuel Felix and Undersecretary Epimaco Densing of Department of Interior and Local Government also joined and expressed their support in this momentous event.