SEC. DUQUE VISITS THE MANILA COVID-19 VACCINE FACILITY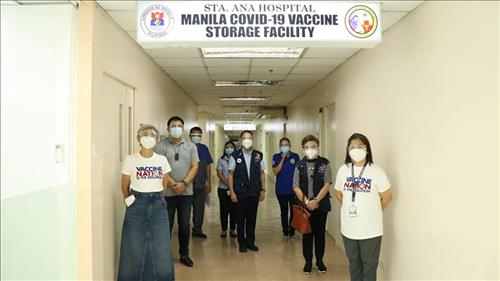 HPMRU News Release No. 020
March 2, 2021
Health Secretary Francisco Duque III visits the Manila COVID-19 vaccine facility after the vaccine ceremonial at Sta. Ana Hospital (SAH), February 2.
Following Secretary Duque administering the COVID-19 vaccine to Dr. Rey Salinel of Manila, an infectious disease specialist, he inspected the Manila COVID-19 vaccine storage facility.
Vaccine refrigerators' temperatures are connected and observed through a TV monitor, and in case of an unexpected decline of temperature, refrigerators will alarm to notify the keeper.
Along with him is City of Manila Vice Mayor Honey Lacuna-Pangan, SAH Medical Director Dr. Grace Padilla, Department of Health - Metro Manila Center for Health Development Assistant Regional Director Dr. Maria Paz Corrales, Metropolitan Manila Development Authority General Manager Jose Arturo Garcia Jr.
#BeWiseGetImmunized #RESBAKUNA #BIDABakunation #BIDASolusyon+