MANILA CITY VICE MAYOR LACUNA, THE FIRST ELECTED GOV'T OFFICIAL, GETS VACCINATED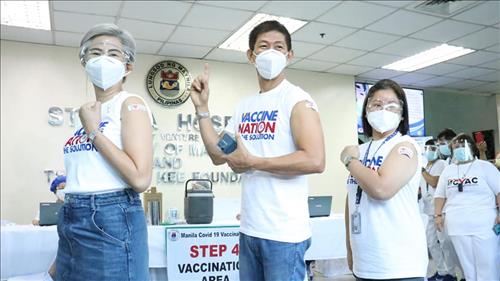 HPMRU News Release No. 019
March 2, 2021
"VacciNation is the solution!" Vice Mayor Maria Sheilah 'Honey' Lacuna-Pangan asserted the City of Manila COVID-19 Vaccination tagline.
Today, Vice Mayor Lacuna-Pangan, a doctor, received her first dose of the CoronaVac at Sta. Ana Hospital (SAH), becoming the first elected government official vaccinated.
Administered by their fellow frontline worker, Vice Mayor Lacuna-Pangan received the first Sinovac vaccine shot on the hospital's first-day vaccine roll-out. Followed by her husband, City Health Officer Dr. Arnold Pangan, and Sta. Ana Hospital Medical Director Dr. Grace Padilla.
Meanwhile, according to Manila City Mayor Francisco 'Isko Moreno' Domagoso, around 160 SAH health workers were vaccinated as of 11 am.
Further, he mentioned in a live interview on Unang Balita that 1,900 health workers already registered out of almost 5,000 medical workers in the city.
Also, he expressed his desire to get the COVID-19 vaccine shot available if given a chance and later encouraged everyone to get their vaccine shot.
#BeWiseGetImmunized #RESBAKUNA #BIDABakunation #BIDASolusyon+