SYMBOLIC VACCINATION WITH CORONAVAC VACCINE (SINOVAC LIFE SCIENCE CO. LTD.) AT THE LUNG CENTER OF THE PHILIPPINES; RESBAKUNA: KASANGGA NG BIDA. SAMA-SAMA TAYO SA BIDA "BAKUNATION".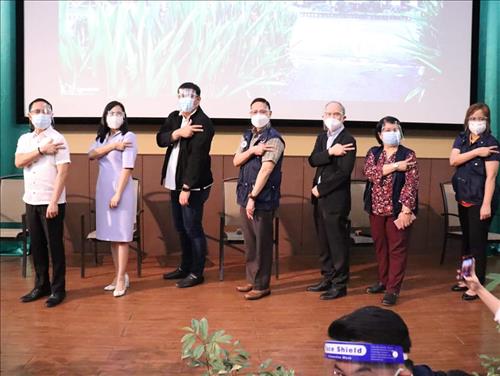 HPMRU News Release No.017
March 1, 2021
In coordination with the Department of Health (DOH), the Lung Center of the Philippines (LCP) held a symbolic vaccination led by Health Secretary Francisco Duque III today at the LCP auditorium.
LCP launched the COVID-19 vaccination with the University of the Philippines - Philippine General Hospital, Dr. Jose N. Rodriguez Memorial Hospital (TALA), Veterans Memorial Medical Center, Philippines National Police General Hospital, and Victoriano Luna Medical Center.
Sec. Duque administered the first COVID-19 vaccine shot, Sinovac to Dr. Eileen Aniceto of LCP Emergency Medicine and Outpatient Department Manager, among other 20 healthcare workers.
Vaccinees underwent the vaccination process from registration until a half-hour to an hour of observation upon vaccination.
"The public and the country salute all of you!" Sec. Duque said in appreciation of the LCP front liners for lending their caring hands to help COVID-19 patients in particular and lung patients in general.
Health Secretary Francisco Duque III, Metro Manila Center for Health Development Regional Director Corazon Flores, Quezon City Mayor Hon. Joy Belmonte, LCP Hospital Director Dr. Vincent Balanag, National Kidney and Transplant Institute Executive Director Dr. Rose Liquete, OIC-Undersecretary for Local Government Marlo Iringan, and Metropolitan Manila Development Authority General Manager Jose Arturo Garcia Jr. attended the event.