SYMBOLIC VACCINATION WITH CORONAVAC VACCINE (SINOVAC LIFE SCIENCE CO. LTD.) AT DR. JOSE N. RODRIGUEZ MEMORIAL (TALA) HOSPITAL; RESBAKUNA: KASANGGA NG BIDA. SAMA-SAMA TAYO SA BIDA "BAKUNATION".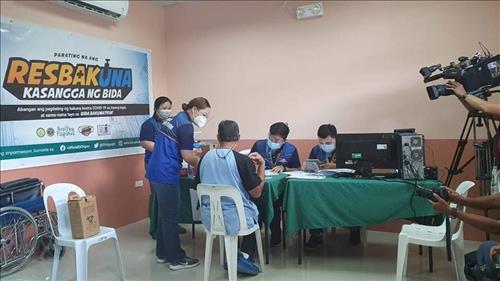 HPMRU News Release No.015
March 1,2021
Today, March 1, marks the symbolic vaccination of Covid-19 with CoronaVac vaccines (Sinovac Life Science Co. Ltd.) at Dr.Jose N. Rodriguez Memorial (Tala) Hospital. This momentous event forms part of the simultaneous covid-19 vaccination sites in the National Capital Region.
Vaccination are given according to priority sector as to having a high risk of exposure making them vulnerable to contract Covid-19 infection. Hence, Tala Hospital being one of the country's dedicated Covid-19 hospital who caters to moderate to severe type of Covid-19 infection, is one of the facility whose health workers were given the opportunity to have access to the first available Covid-19 vaccine in our country.
Past 10 am, the first covid-19 vaccine recipient in the said event was no other than the Hospital Medical Center Chief II , Dr. Alfonso Victorino Famaran, Jr Along with Famaran was Nurse Samuel Sumilang, Chief of Nursing Service and the Covid-19 testing czar Deputy Chief Secretary Vince Dizon.
This is a new beginning as the country gears up for its largest ever immunization campaign. "I opted to be vaccinated first as a leadership by example, " Famaran said with the hope that health workers will be encourage to follow thru.
#BeWisedGetImmunized #RESBAKUNA #BIDABakunation #BIDASolusyon+