THE GOVERNMENT CONDUCTS SIMULATION EXERCISE IN PREPARATION FOR THE COVID-19 VACCINE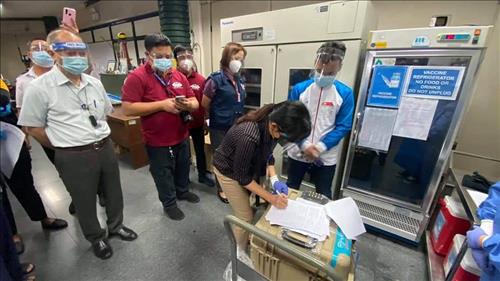 HPMRU News Release No.013
February 09, 2021
Department of Health (DOH) today with the Department of Transportation (DoT) and other government agencies joined forces to conduct a simulation exercise in preparation for the coming COVID-19 vaccines at Ninoy Aquino International Airport.
From the airport, DOH Secretary Franciso Duque III along with DoT Secretary Art Tugade, Vaccine czar Carlito Galvez Jr. and other high officials welcomed and observed the process of transporting the simulated vaccines from the airport to the vaccination hub at the Research Institute for Tropical Medicine (RITM)
As the process of moving the vaccines from the airplane is strictly observed, shaking while lowering the vaccines is prohibited, especially with Pfizer.
National Task Force Implementor Deputy Secretary Vince Dizon, Duque, and Galvez waited for the vaccines at RITM as it was being transported and escorted by the police to transfer the vaccines to the ultra-low freezers.
The vaccine and its batch number were checked upon transferring
Vaccine Arrival
According to Galvez, there is no definite date yet of the vaccine's arrival, only an indicative date on February 15.
He added that there are still paper works that needed to comply.
From RITM TO PGH
Part of the simulation exercise is to transport the vaccine from the vaccination hub to its other location such as the Philippine General Hospital (PGH), Philippine Lung Center (PLC), and Tala Hospital.
Using a refrigerated van, vaccines were transported from RITM to PGH and immediately transferred hospital's ultra-cold storage.
To maintain the cold chain, the vaccine's required temperature storage standard is from -60 to -80 degrees Celcius.
From RITM to Philippine Lung Center
From RITM, vaccines were transported to PLC and quickly transmitted to its storage at the hospital's pharmacy at the standard temperature.
"to ensure that we will be able to somehow perfect the system/process so that any glitches any problem that we might encounter we have to correct and response to it and to ensure the potency of the vaccine." Said Metro Manila Center for Health Development Director Dr. Corazon I. Flores in an interview about the conduct of simulation exercise.