CHIKITING PROTEKTAHAN KONTRA TIGDAS AT RUBELLA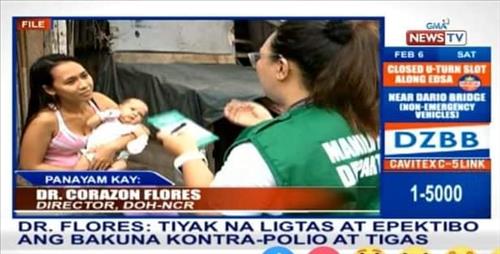 HPMRU News Release No. 011
February 06, 2021
In an interview today with Ms. Connie Sison in GMA 7 News TV program Pinoy MD sa Super Radyo DZBB, Regional Director Corazon I. Flores of MMCHD advocates the ongoing Measles Rubella Polio Supplemental Immunization Activity in NCR. This is a strategy to curb the spread of measles through the administration of free vaccination among infants and children 9-59 months.
The activity that is set for the whole month of February 2021. According to Dr. Flores, NCR has already achieved 30% vaccinated infants & children 9-59 months for measles rubella. Ms. Connie Sison raised the controversy brought by the Dengvaxia vaccine that caused panic among the parents, but Dr. Flores explained that parents and guardians do not need to be afraid of the MR Vaccine because the said vaccine that will be given during the MR-SIA were already used decades ago and were proven for its efficacy. She urges the active cooperation of the parents and guardians for the MR-SIA by voluntarily bringing their child/children to the nearest health center or designated temporary post to have their shot of measles rubella vaccine. She assured that vaccination teams strictly comply with the minimum public health standards such as wearing PPEs ( like face mask and face shield), practicing physical distancing, etc., as infection and prevention control against COVID-19.
Dr. Flores stated that there was a Measles Outbreak in NCR with 8,500 measles cases and that the lockdown brought by the pandemic caused an increase in unvaccinated children. She reiterated that Polio is a disabling and life-threatening disease, and Measles is a highly contagious viral infection of the respiratory system that can cause pneumonia, encephalitis, and death.
The interview ended with Dr. Flores' message of encouragement to parents to get their children vaccinated against measles rubella. The success of this on-going activity will benefit the children and the community which may prevent further transmission of highly infectious measles disease.