DR. CELINO ENDORSES MR-SIA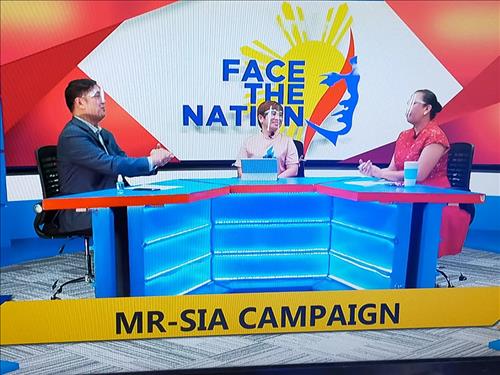 HPMRU News Release No.010
January 26, 2021
Dr. Laila D. Celino, Medical Officer IV and the Head of the Health Promotion and Media Relations Unit of the Department of Health – Metro Manila Center for Health Development today guested on Face the Nation, the news and current affairs program of One Media Network, Inc. to officially endorse the forthcoming Measles-Rubella Supplemental Immunization Activity or MR-SIA.
MR-SIA is the nationwide synchronized mass immunization campaign spearheaded by the Department of Health in close collaboration with the World Health Organization (WHO), the United Nations Children's Fund (UNICEF), Relief International (Philippines), the local government units and other stakeholders. The aim of MR-SIA is to immunize all eligible children against measles and rubella.
In the interview with Face the Nation program hosts, Howell Malabot and Lorlyn Garcia-Velarde, Dr. Celino urged the parents and guardians of children aged 9 months to less than five years old to bring their children to the health centers and vaccination posts in their areas for the add-on dose of measles-rubella vaccine.\
Dr. Celino reminded the people that the MR-SIA will be conducted from February 1 to 28 this year. Basic health and safety protocols will be observed since the threat of COVID-19 transmission is still in our midst.
Incidentally, the interview with Dr. Celino was recorded and is being scheduled for airing by One Media Network in the next few days.