DOH-MMCHD AND MANDALUYONG CITY COMMENCE THE REGIONAL MR-SIA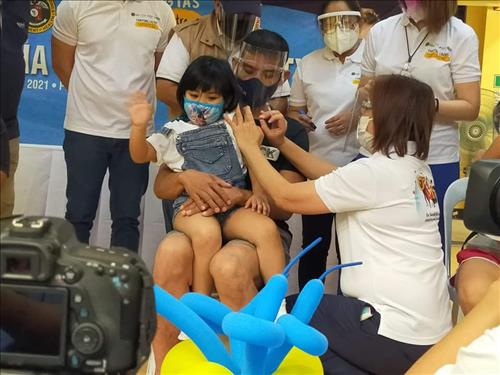 HPMRU News Release No. 009
January 29, 2021
The Department of Health – Metro Manila Center for Health Development (DOH-MMCHD), in collaboration with the City Government of Mandaluyong, today officially kicks-off the Measles-Rubella Supplemental Immunization Activity or MR-SIA in the National Capital Region (NCR) with a simple, concise and yet significant ceremonial program at the Plainview Elementary School. The activity was broadcast on live streaming via Facebook Live and was synchronized with similar activities done in certain regions of the country such as Central Luzon, CaLaBaRZon, Western Visayas, Central Visayas and Eastern Visayas.
MR-SIA aims to provide children with extra protection against measles and rubella. All children aged 9 months to less than five years old in NCR and in the selected regions will be given additional dose of measles-rubella vaccine during the month-long massive health campaign on February 2021. Vaccination will be conducted in health centers and identified vaccination posts. Basic health and safety protocols for COVID-19 prevention will be strictly observed in these facilities at all times.
The regional kick-off ceremony for MR-SIA started at 10:00 a.m. with the opening program. Dr. Corazon I. Flores, Officer-In-Charge/Director IV of DOH-MMCHD cordially opened the ceremonial activity with her welcome remarks. Mr. Nolan Angeles of the Office of the Mayor was the Master of the Ceremony.
Among the very special guests during the program is DOH Assistant Secretary Elmer G. Punzalan, Head - Field Implementation and Coordinating Team for NCR and Bro. Jimmy Isidro, Chief of Staff - City Government of Mandaluyong, who represented Mayor Carmelita A. Abalos. The two officials conveyed their inspiring words and full support for MR-SIA.
The video production with Metro Manila Mayors expressing their solidarity in supporting the MR-SIA was presented. Their call to action signified that the Local Chief Executives are one with the health department in giving priority and utmost importance to the health and safety of the children.
Asec. Punzalan, Dr. Flores, Bro. Isidro and Dr. Sta. Maria demonstrated the proper hand washing techniques. This demonstration is very important since hand washing is obligatory and will be done frequently during the provision of health services such as vaccination.
The highlight of the event was the actual vaccination of five pre-selected eligible children who were accompanied by their mothers. Dr. Flores and Dr. Sta. Maria administered the measles-rubella vaccine to the children. Health workers of Mandaluyong City assisted in the vaccination. Aside from the extra protection that these children freely availed of, they were given BIDA hygiene kits as token of appreciation.
Dr. Alexander C. Sta. Maria, City Health Officer formally concluded the ceremonial activity with his closing remarks.
The MR-SIA is being supported by the World Health Organization (WHO), United Nations Children's Fund (UNICEF), Relief International (Philippines), Philippine Information Agency (PIA), local government units and partners in health.