DIR. FLORES REITERATES THE IMPORTANCE OF MR-SIA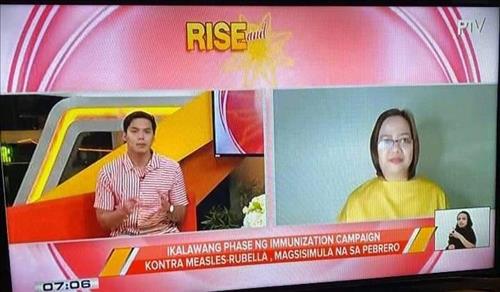 HPMRU News Release No. 008
January 22, 2021
Dr. Corazon I. Flores, Officer-In-Charge/Director IV of the Department of Health – Metro Manila Center for Health Development (DOH-MMCHD) today guested thru a live, on-line interview on the early morning newscast program, Rise and Shine, Pilipinas!, on People's Television Network, Inc. (PTV 4) and reminded the viewers on the upcoming Measles-Rubella Supplemental Immunization Activity or MR-SIA that will be simultaneously implemented in all the local government units of Metropolitan Manila from February 1 to 28 this year.
Dir. Flores said that the supplemental immunization campaign is important. The Department of Health wants to make sure that all children will be protected from measles and rubella and from an imminent outbreak of these diseases especially that the country is amid the COVID-19 pandemic.
With this, Dir. Flores appealed to parents and guardians of children aged 9 months to less than 5 years old to bring their children to the nearest health center and temporary vaccination post in their areas for the free additional dose of measles-rubella vaccine. Basic health and safety protocols will be observed in these vaccination posts during the MR-SIA. She emphasized that the measles-rubella vaccines are proven safe and effective.