DOH-MMCHD, PARTNERS SUPPORT COVID-19 VACCINATION OF PASIG CITY TABLE-TOP EXERCISE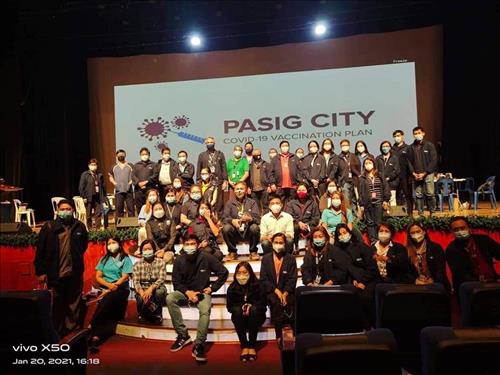 HPMRU News Release No.007
January 22, 2021
The City Government of Pasig today simulates the forthcoming roll-out of the COVID-19 Vaccination Program of the government in a well-organized activity at the Tanghalang Pasigueno.
The activity commences with the singing of the Philippine National Anthem - Lupang Hinirang , the offering of a solemn invocation, message from the National Task Force Against COVID-19 and the presentation of the city micro plan for COVID-19 vaccination.
Honorable Victor Maria Regis N. Sotto, Mayor of Pasig City, in his opening remarks, cordially welcomes the guests and participants in this momentous event.
In the presentation of the COVID-19 Vaccination Plan of Pasig City, as spearheaded by the Pasig City Beat COVID-19 Vaccination Team, various innovations will be employed during the vaccination program. Incidentally, Pasig City is the pilot city in the country for the COVID-19 vaccination roll-out.
Among the innovative strategies for the COVID-19 vaccination program of the city are the following: (1) Pasig Health Monitor intended for complete citizen health information management and monitoring that includes the issuance of Pasig Pass with QR Code-based contract tracing solution; (2) Establishment of a functional COVID-19 Command Center headed by the National Immunization Program (NIP) Officer of the city; and (3) Pasig Infocast – a text blast capacity for intensified and timely information dissemination of COVID-19-related concerns.
As discussed in the presentation, during the actual vaccination activity, emergency response will be fully activated. Medical doctors will be on alert mode, emergency vehicles for mild adverse events will ready for use be on site. Ambulance will likewise be available for severe cases of adverse reactions, if there will be any. Service Delivery Network will be fully operational for cases that need referral to hospitals facilities. Also, the city government ensures the that the Traffic and Parks Management Office (TPMO) will be in full force to ensure peace and order in the flow of vaccinees in vaccination sites and the traffic in various thoroughfares within the city.
One of the major parts of the orientation-workshop is the Table-top Exercise, in which a facilitated group discussion was conducted based on the City's microplan. The exercise aims to elicit constructive discussion among the participants and identify potential problems that may be encountered during the actual vaccination program, coming up with solutions and recommendations to refine and improve the existing vaccination plan of Pasig City for the roll-out in February this year.
Officials from the World Health Organization, DOH-Disease Prevention and Control Bureau and DOH-Metro Manila Center for Health Development actively participate in the simulation exercise and support the COVID-19 vaccination initiatives of the city government of Pasig.
While awaiting the arrival of approved, safe and effective vaccines against COVID-19, preparedness and coordination remain key of any effective immunization campaign can begin to overcome the pandemic and saving lives.