DR. FLORES HEIGHTENS LIVER CANCER AWARENESS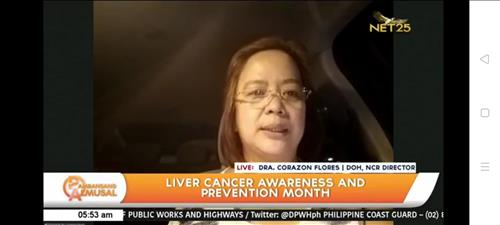 HPMRU News Release No.005
January 12, 2021
Dr. Corazon I. Flores, Officer-In-Charge/Director IV of the Department of Health – Metro Manila Center for Health Development on a live on-line interview on January 11 at Pambansang Almusal, the early morning news-magazine program of Net 25, promoted liver cancer awareness.
Incidentally, January is Liver Cancer Awareness and Prevention Month. This year, the theme of this health event is "Malusog na Atay, Masayang Buhay."
Dir. Flores told the viewers of Pambansang Almusal that among the common signs and symptoms of liver cancer are weight loss, loss of appetite, yellowing of the skin, a certain enlargement on the right side of the abdomen and dark-colored urine. She made emphasis that once a person notices these conditions, immediate consult with the doctor is needed. Medical consultations and Hepatitis B screening may be availed in government health facilities and social hygiene clinics so that proper medication may be given to clients, she added.
Practicing healthy lifestyle is important, Dir. Flores emphasized. She advised the people not to smoke and not to take alcoholic drinks, eat healthy food, do regular physical exercises, have enough rest and sleep and to avoid other vices.
Dir. Flores also took the opportunity to promote the BIDA Solusyon strategies being advocated by the DOH since the country is still in the middle of the COVID-19 pandemic. She stressed the need to wear face mask and face shields and compliance to physical distancing as among the preventive measures for COVID-19 transmission,
Lastly, Dir. Flores reminded the parents and caregivers of children aged 9 months to less than 5 years old to bring their children to the health centers on February for the Measles-Rubella Supplemental Immunization Activity.