Sec. Duque inspects hospital preparedness for firecracker injuries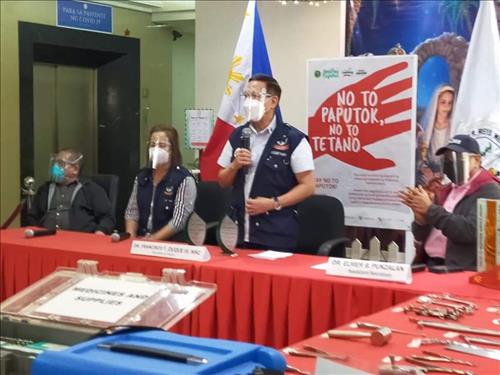 HPMRU News Release
December 18, 2020
Health Secretary Francisco T. Duque III today visited Jose R. Reyes Memorial Medical Center and Tondo Medical Center in the City of Manila to ascertain the preparedness of the two government hospitals in responding to firecracker-related injuries and other emergency cases during the yuletide season.
Sec. Duque makes his yearly hospital rounds and sees to it that medical equipment, instruments and medical and first aid supplies are ready in the hospitals for any eventuality that may be caused by the use of firecrackers and pyrotechnics in the holiday revelry specifically on the eve of the New Year. This is in spite of the strong advocacy, Iwas Paputok, being implemented by the health department and its partners and stakeholders.
Incidentally, the Iwas Paputok Campaign encourages the people to use alternative and safe means to celebrate the yuletide season.
The visit of Sec. Duque to Jose R. Reyes Memorial Medical Center also paved the way for the Department of Health – Metro Manila Center for Health Development, thru Dr. Corazon I. Flores, OIC-Director IV, to hand-in the COVID-19 Response Service Award to the hospital for the invaluable and unrelenting efforts of its medical frontline health workers in providing quality care for patients afflicted with COVID-19. Dr. Emmanuel F. Montano, Jr., Medical Center Chief II humbly accepts the recognition.
After this, the Health Secretary, together with Assistant Secretary Elmer G. Punzalan and the DOH team proceeds to Tondo Medical Center and does a similar inspection on the readiness of the said hospital in attending to firecracker-related cases. The team is warmly welcomed by the hospital officers and staff.
Sec. Duque shows his ardent desire to see a healthy and safe Kapaskuhan and Bagong Taon celebrations for the Filipinos despite the COVID-19 pandemic.